Editextreme Video Editing Training Lessons
We Offer Professional & Affordable Video Editing Training Lessons In The Toronto Area
I Need A Good Video Editing Training Company In Toronto
---
For Anyone Looking To Edit, One-On-One Video Editing Training Is The Quickest Way To Learn.
For Independent filmmakers in and around Toronto, video editing is an invaluable and essential tool for writer/producers who need to finish their scripts after the video shoot. Becoming a "Shreditor" (producer/shooter/editor) is presenting them with lucrative new opportunities and for anyone looking to learn how to edit video, one-on-one video editing training is the quickest and most effective way to develop those skills.
At Editextreme, students are usually trained to edit video effectively in just two or three lessons.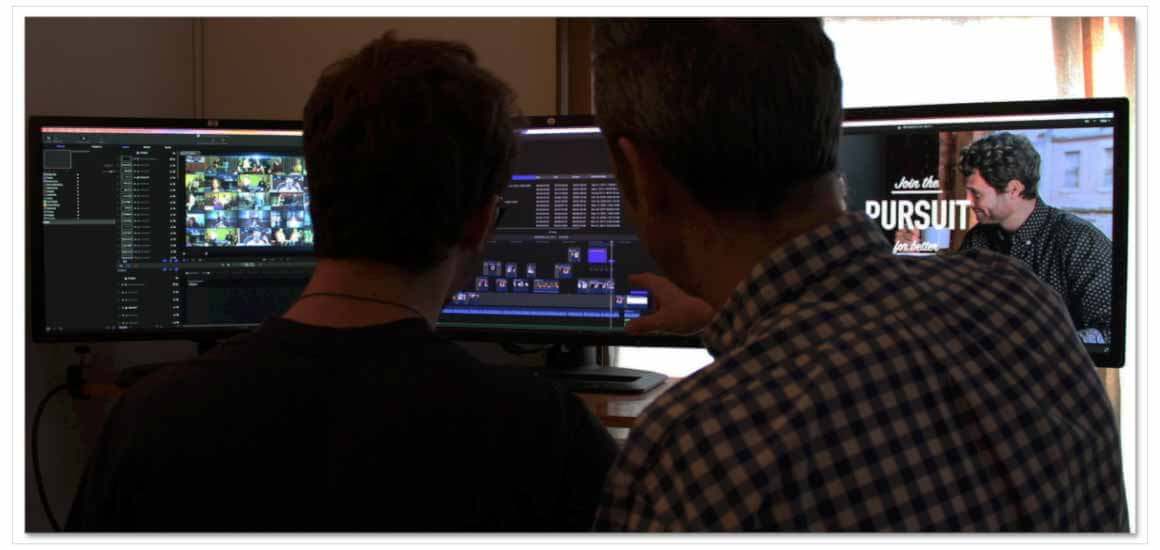 Apple Final Cut Pro X (FCPX) Training
---

Our FCPX (Final Cut Pro 10) video editing training for beginners and intermediates is targeted to the specific needs of our students.
In other words, we personalize the lessons to instruct trainees in whatever they'd like to learn.
If you have a Mac, one-on-one FCPX training is the fastest and easiest way to learn professional video editing.
FCPX Training Costs:
Pricing starts at $40 per hour. Please see our pricing page for more details.
Apple Motion 5 Training
---

We currently offer basic Apple Motion 5 training for aspiring video editors so they can become more versatile through use of Motion graphics video files.
We teach users how to alter and save standard Motion templates in FCPX as custom versions and create new title templates, generators and filters in Apple Motion so that they can be used in FCPX.
Motion graphics files created in Apple Motion 5 can also be used in other editing systems.
Apple Motion 5 is a very inexpensive yet powerful motion graphics software and every video editor should have develop this skill.
Apple Motion 5 Training Costs:
Pricing starts at $40 per hour. Please see our pricing page for more details.
Adobe Premiere Pro Training
---

Premiere Pro, in the mind of most professional video editors, is the dominant video editing software in the world right now, and, if you're interested in working as a video editor, you will probably need to learn Premiere Pro.
One-on-one Adobe Premiere Pro video editing training will enable you to quickly learn in a targeted way that can save you hundreds or even thousands of dollars on courses.
It's also a great way to upgrade or refresh your skills if you already have some experience with Premiere and you can learn at your own pace in a way that works with your schedule.
Adobe Premiere Pro Training Costs:
Pricing starts at $40 per hour. Please see our pricing page for more details.
Editing Suite Rentals
---
Video editing suite rentals are often available when one (or more) of our edit stations is not in use and one of our professional video editors will be available to assist you with any questions regarding the hardware or software.
Students will have access to our Mac Pro Towers with Apple's Final Cut Pro X (FCPX), Final Cut Studio 2 and Adobe's Creative Suite 6 (CS6).
Editing suites available for rental include:
Edit #2 is an 8-core MacPro Tower with an internal RAID 0 and dual monitors running FCPX, Motion 5, and CS6.
Edit #3 is a 4-core, MacPro Tower with an internal RAID 0 and running FCPX.
Editing Suite Rental Costs:
Pricing starts at $10 per hour.
Please note that the minimum rental period is 2 hours.
Learn From The Pros
---
Schools & YouTube videos can be great for a lot of things, but learning something hands-on from the pros in the real world of video editing cannot be undervalued.
Our team of editors has decades of accumulated experience to share and we'll show you what matters and, more importantly, what actually works.
We'll come up with a learning plan best suited to your needs and teach you practical ways of approaching different situations and challenges.
Whether you're planning on freelancing or becoming part of a team, you will need to be able to problem-solve and troubleshoot problems on the fly. Among other valuable lessons, we can teach you those skills as well.
If you're looking to learn how to edit videos and want to get a head-start on the people you will eventually be competing with in the industry, give us a call and we'll talk about your goals.
---